Profile:
I have been licensed by the state of Arizona (Structural Pest Control Commission) since November 22, 1980 -
Holding the ASPCC License Number 630 B.
State of Arizona License Number I 5411 B.
State Certifications in (5) Pest Categories. My Certification # 961113 BCDE VII
B:... General Pest
C:... Termite and wood destroying organisums
D:... Fumigation
E:.... Weed, Turf and Ornamental
VII:. Public Health
Mission Statement:
Our Intent is to give you the finest least Toxic form of pest control known to man, After 23 years of service and 6 years of chemical compatibility and composition study, I believe I have come up with the only safe (Low-Non-Toxic) Pest Control Method...
Why would anyone spray highly toxic chemicals on their properties putting Themselves, their Children, Pets, Plants and Properties at Risk.
This Web Sight was designed with the intent of supplying the consumer and are valued clients with recommendations and advice to help them with their own pest control management. Please feel free to roan around and read our various Hints and Ideas. If you have any methods that have worked for you, Please let us know.
Thank You,
Denny Riccelli (Owner)
Contact Information:
Blue Planet Pest Solutions !!............... .(602) 867-0355
PO Box 30381
Phoenix, Arizona 85046-0381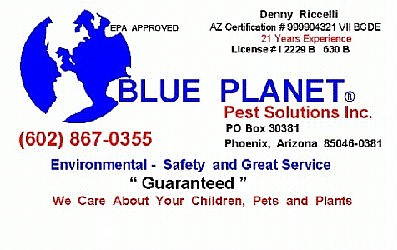 ....HOME |.LABEL | MSDS | WPS | PRODUCT SUMMARY...............................................©2002 Blue Planet